(Louis Meulstee's web site)
---
New addition to the WftW Compendium series! 29 March 2012: Compendium 6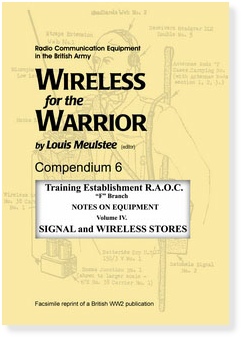 Attention please:
The WftW web site was first launched in 1998 with the HTML resources of that period, build and maintained with the now obsolete and discontinued HomeSite 5 HTML editor, which eventually became quite difficult to run in Windows 7. Because the WftW site had grown considerably over the years, the maintenance and adding new content became a tedious and time-taking matter. Being a user of the Serif PagePlus X6 desk top publishing program, I recently decided to move to Serif WebPlus X6 as this companion program provide much flexibility in maintaining a website and an easy setup of new pages. I will retain as much as possible the original general layout and simplicity of navigating through the pages, avoiding gadgets and irritating pop-ups. Many of the illustrations, produced with a first generation digital camera and scanner of the late 1990's will be changed (now or at a later stage) by newly taken photos or enhanced with the aid of the invaluable Adobe Photoshop software. In order to reduce the number of pages, and avoiding duplication in the information, the 'sets' and 'sets image directories' will be combined, including the Russian sets in the Gallery. It will take of course some time before I have migrated all the current pages into the new WftW website.

Current status of the new WftW website:
The base of the new WftW website has been completed and currently I am filling the pages. All the links are working as expected, new features have been added which will make navigating through the pages very easy and comfortable. New items will be added to the download section. (5th April 2013)
Good progress has been made so far, I estimate that at the end of May 2013 the new site will be on the air. (25th April 2013).
All pages for the new site are now completed, there is still work to do on fine tuning, enhancement of photos, search engine optimalisation and carefully re-reading the text for typos and grammar errors. So far, the result exceeds my expectation. (21th May 2013)
---
Welcome to the home page of Louis Meulstee, the author of the " WIRELESS FOR THE WARRIOR" range of books devoted to the technical history and development of British Army radio communication.
On this web site you will find basic technical descriptions and photographs/drawings of radio sets once used in the British Army. In addition, there are posted various other subjects for example: line telegraph (the Fullerphone), Air-Sea rescue sets (Gibson Girl), a gallery with Russian radios and other topics.
The background colour of the "Wireless for the Warrior" pages on this site is not taken at random but matches the colour of British Army radio equipment in the early World War 2 period.
---
Wireless for the Warrior Volumes 1 to 4, Compendiums 1 to 5.
The Wireless for the Warrior range of books (comprising the Volume and Compendium series) is intended as a detailed source of reference to the history and development of radio communication equipment in use by the British Army from the very early days of radio up to the 1960's.
---
The WftW 'Volumes'

Volume 1 (Wireless Sets No. 1 to 88) and Volume 2 (Standard Sets for World War II) cover transmitters and transceivers used the period 1932-1948. This era was not taken arbitrarily, but represents two milestones in the technical progress of British Military radio communication:

The first milestone was in 1929 when positive steps were taken to formulate and develop a new series of wireless sets of which the first became available around 1932. This series was a great improvement on the then obsolete World War I pattern equipment.
The second milestone was reached at the end of World War II with the introduction of VHF FM and hermetically sealed equipment of the Larkspur range on which initial development began during the war.
The period also represent the use of the numerical classification system which was abandoned after World War II.

In Volume 3 (Reception Sets) Army receivers are described, spanning the era 1932 to the late 1960's. The book does not only cover those receivers specifically designed or adapted for the British Army, but also sets adopted from Royal Navy and Royal Air Force. In addition are covered special receivers, direction finding receivers, Canadian and Australian Army receivers, commercial receivers adopted by the Army, and Army Welfare broadcast receivers.

Volume 4 (Clandestine Radio) include Clandestine, Agents or 'Spy' radio equipment, sets which were used by Special Forces, Partisans, Resistance, 'Stay Behind' organisations, Australian Coast Watchers and Diplomatic Service, in addition to selected associated power sources, RDF and intercept receivers, bugs and radio- and radar beacons. The information has been compiled through the collaboration of a vast number of collectors and enthusiasts around the world.

The four Volumes can be obtained direct from the publisher Wimborne Publishing Ltd. Amendments for WftW Volume 1 and 2 are posted in the downloads page.
---
The WftW 'Compendium' series

The Compendium series is a new addition to the 'Wireless for the Warrior' range of books. The new series is principally intended as practical guide and reference source to vintage military signal communication equipment. It is particularly valuable to anyone with an interest, professionally or otherwise, in this subject, requiring an elementary but complete quick reference and recognition handbook. Containing condensed data summaries,liberally illustrated with photos and drawings, explanatory captions and short description of the main ancillaries, its pocket size format and laminated soft cover makes it an ideal reference and reliable companion for events such as auctions and radio rallies, or just for browsing at leisure.

Compendium 1 "Spark to Larkspur" (Wireless Sets 1910 - 1948) is the initial book organised into three main sections being 'World War 1', further divided into chapters covering spark sets, CW sets receivers amplifiers, and miscellaneous. The second section, 'Inter war years' deals with standard sets, experimental communication, tank and AFV sets, early sets in the numerical series and miscellaneous items. Finally, the section 'World War 2' covers sets in the numerical series.



Wireless for the Warrior Compendium 1 can be obtained direct from the Dutch publisher
or from

Wimborne Publishing Ltd.


Compendium 2 "Spark to Larkspur" (Special Sets, Receivers and Larkspur) is divided into five main sections and sub-divided into chapters by application, operational use, range or family of sets, and date of introduction.

Compendium 3 and 4 "Foreign Equipment Data Sheets" (Part 1 and Part 2) contains a facsimile reprint of a German World War 2 publication entitled 'Signal Equipment' ('Nachrichtengerät'), also known as D50/13. The publication is Volume 13 in the 'Foreign Equipment Data Sheets' ('Kennblätter fremden Geräts'), a series of German Army publications providing data on enemy equipment, principally from Belgium, England, France, North America, Russia and Switzerland.

Compendium 5 "Signal Communication Equipment used by Enemy Nations" is a facsimile reprint of a British publication providing technical and operational data on captured enemy signal communication equipment originating from Germany, Italy and Japan. It was produced by the Signals Research and Development Establishment (SRDE) in co-operation with MI8 and first issued as a secret document in January 1944.

Compendium 6 'SIGNAL and WIRELESS STORES', Notes On Equipment, Volume IV , is a facsimile reprint of a British World War 2 publication issued by the Training Establishment, Royal Army Ordnance Corps (RAOC), 'F' Branch.

Wireless for the Warrior Compendiums 2, 3, 4, 5 and 6 are only available via the 'publishing-on-demand' printers in the www.lulu.com/spotlight/wftw WftW Bookshop. The books are modestly priced and PayPal is accepted!
---
Wireless for the Warrior eBooks



This historical account on the running of the Signals Research and Development Establishment was written in 1945 by Mr Goldberg who was employed at SRDE from the very beginning of its existence to his retirement in the 1950's.

The Goldstone Paper is the first in a new series of eBooks, transcribed and edited by Louis Meulstee, suitable for reading on almost any eBook reader, now available in ePub and Mobi format in the Downloads section. No eBook reader yet? Try the freeware Calibre program which can be downloaded at http://calibre-ebook.com/. It is my intention, time permitting of course, to add new eBooks in this series from time to time. The WftW eBooks are free to download and there is no objection in sharing them with others.
---
Whats new
Recently added or revised
(19 December 2012)
---
Attentie
De inhoud van oude website (Planet Internet hosted) staat nu op dit domein.
De url van de oude website blijft voorlopig nog aktief
http://home.wxs.nl/~meuls003/
maar is verder afgesloten.
Attention
The contents of my old web site (hosted by Planet Internet) is incorporated in this domain.
The old web site url
http://home.wxs.nl/~meuls003/
will be available until further notice, but its contents has been removed.
---
| | |
| --- | --- |
| | You can reach me by e-mail on the following address: louis 'at' wftw.nl |
---
The Vintage Military Radio
Site Ring
This site is owned by
Wireless for the Warrior
---